Entertainment
Criticism | The Watchtower – Netflix misses again with horrific action flick
At a time when representation and representativeness are much discussed in all spheres of society, it is not enough for a production to think that it is only to replace a man with a woman who is doing well, it has already done His part. But that's exactly the feeling we get when we see "The Watchtower," Netflix's new action movie.
Klara (Olga Kurylenko) is a female military member deployed somewhere in the Sahel (southern region of Africa), where French troops are fighting terrorism and extremism in the region. After witnessing an explosion, she is sent home to Paris, where she begins patrolling the streets to fight terrorism in the French capital. Then, after a party with her sister, Tania (Marilyn Lima), Klara receives a call saying that her sister had suffered violence and that she was in a coma in the hospital. Thus begins the thirst for revenge of the military, who go to Nice to do justice with their own hands.
Yes, the story of "The Watchtower" is just that, and that is why it is so sleepy, even though it offers an action / thriller movie. In an hour and twenty hours (and it could be even less than that) a good chunk of the feature doesn't even have a dialogue, it's just the protagonist coming and going, in a cart or on foot, patrolling and holding a gun. This part of the beginning, where it is in the Sahel, serves absolutely nothing during the plot, only to provoke a "trauma" – which, since it is not repeated, could only have been mentioned in the film. In the end, it only served to spend the budget.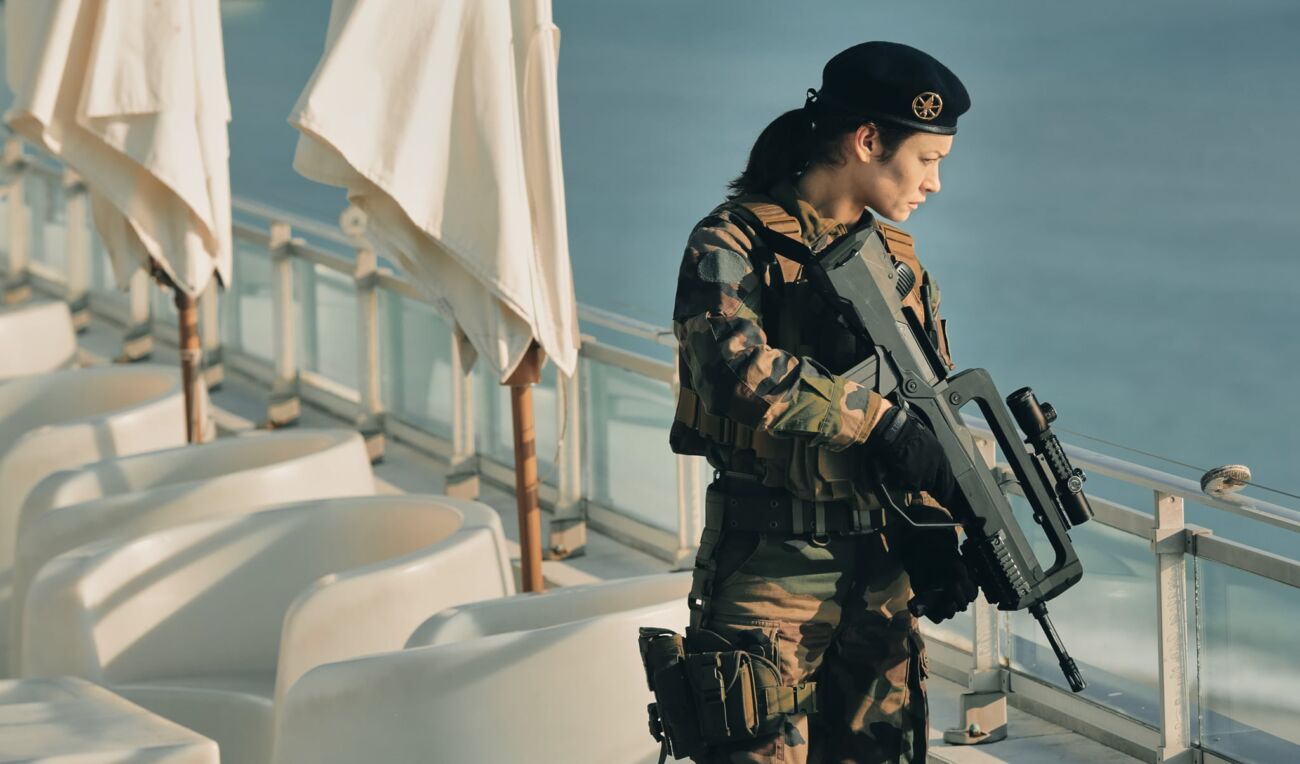 Written by Matthieu Serveau and Julien Leclerq (and directed by him), were it not for the fact that he played Olga Kurylenko " The Watchtower " would be a story written for a man in the lead role: the protagonist , besides being in the military and not expressing emotions, at some point he has sex with a woman – reinforcing the stereotype that a woman in the military and / or in an action movie is not maybe a lesbian and a tough one. The character Klara (whose name is only mentioned once) has no female characteristics, showing a version of Steven Seagal in action. Considering that the target audience of the feature film is male, the insertion of the lesbian sex scene is not only free, since it also does not contribute to the story, but also biased, to satisfy the fantasies of this audience.
Even putting all of that aside, "The Watchtower" is still a very bad movie. The script puts the elements in scene without developing them, like easy solutions for a demotivated film but whose obstacles must be resolved quickly. As entertainment, the action scenes are small and unconvincing – one opponent at a time, all with limited intelligence. There is something better on Netflix for those looking for an action movie to watch.
Enjoy watching:
Make sure to watch:
SUBSCRIBE TO OUR YOUTUBE CHANNEL